Morristown (NJ) Daily Record, July 10, 1947

Case 790 -- July 9, Morristown, New Jersey: In an account published in the Morristown Daily Record (7/10) there is a description of a sighting that presumably took place on the preceding morning. The witness was John H. Janssen, of Morristown, identified as "Airport Columnist" on the Record. He reported that he was on his way to the airport at mid-morning when he "caught a glint in the sky and, looking up, saw what he first took to be a group of airplanes. Closer examination revealed a formation of four disc-like objects floating in the air at about 10,000 feet. Janssen said he "quickly fitted a filter to his camera lens" and took the photograph printed with his story. "I had only time for this one picture. While I was turning the film for the next exposure the lead disc suddenly shot upward and toward New York City in a dazzling burst of speed. The other three followed and all were out of sight in a twinkling of the eye. In my brief glimpse of the discs I did notice that the lead one was of a dull metallic color and the others appeared to be of a silvery hue.

…Janssen was the second of two UFO witnesses in the 1947 wave to publicly express belief that the objects were space ships. "I really believe these craft to be operated by an intelligence far beyond that developed by we earth-bound mortals and (I) am inclined to agree with the theory that they are space craft from another planet." He went on to theorize on possible magnetic and antigravity methods of propulsion to explain the acceleration of the objects. "In all probability these are reconnaissance craft and as they have been seen all over the world and not only in this country, are probably making a thorough study of us and our terrain and atmosphere before making any overtures.

Christian Science Monitor (Boston), Editorial, July 9, 1947

Drummondsville (Quebec) Spokesman, p. 2, July 11, 1947

Flying Saucers

With eyes as big as saucers, the public is scanning the skies for signs and portents.  Greek mythology had its winged griffins, but the age of Superman prefers flying discs.  Even the pink elephants which some reprehensible old characters used to ell of seeing are hopelessly outdated.  For the advantage of these flying saucers, hurtling through the sky at dizzy speeds, is that they can be seen by presumably sober people. If the flying-saucer fever seems like an absurd sequel to Orson Welles's invasion from Mars, there is this to be said.  Since the Welles radio hoax the world has moved into a jet-propelled atomic age in which the fairy tales of yesterday have become the grim problems of today. It is not surprising that the merest suggestion in the news should make multitudes of jittery people see spots in front of their eyes.  There is, of course, a bare margin of possibility that the behind the overheated imaginings that have multiplied the "saucers" into all colors and sizes is a genuine freak of nature, or a top-secret military experiment, or something else.  But the real danger to be faced in finding the proper controls for nature and for mankind's manipulation of it is the contagion of hysteria…

Chicago Daily Times, editorial page, July 10, 1947

Opinion of The People

Disc stuff

These flying discs that have been seen flying in different parts of the United States should be investigated.  Science says they are just imagination but too many people have seen them.  It seems that our Army and Navy might spend a few days in the air to try to intercept of shoot down one of these objects.  Who knows—it might be something from another planet.  Then it could be something from another country.  At any rate it's worth looking into if only in the interest of science.—Mrs. J. MC.

Denver Rocky Mountain News, p. 12, Letter to editor, July 10, 1947

Cherubim?

Editor:  The wild speculation which is rife in attempts to explain the phenomena of the flying disks is sure to come to naught.  A few scientists who attempt to be puerile in their explanations find themselves bordering on the ridiculous and impossible.  "Mass hysteria" is unreasonable.  "Reflections of the sun's rays from lakes and lagoons" is out of harmony with the "terrific speed" and the "shifting of position" as observed by a certain pilot.  Their traveling in an orderly "procession" would imply intelligent control as a factor to be taken into consideration.  Further observation may yet determine the factor of intelligence, and if this should prove to be true we are forced into a new realm of analysis bordering on the supernatural. Certain scientists have pronounced Ezekiel's cherubim, which Ezekiel saw on the river bank in the land of the Chaldeans, as "fanaticism" and unworthy of consideration.  Nevertheless the underlying principle of an evolved intelligence cannot be disputed. Both Ezekiel and Isaiah beheld mysterious seraphim (company of angels), and while the writer would not offer this as a solution, it must be admitted that any forthcoming intelligence in the maneuvering of these disks will solve the riddle. Scoffers may continue to scoff, but if a maneuvering of these disks is observed in orderly fashion, then "intelligence" is in control.  W. S. BUTTERBAUGH, Canon City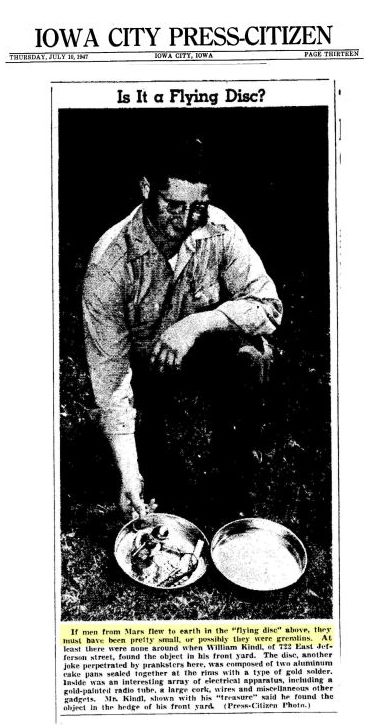 Iowa City Press Citizen, p. 13, July 10, 1947

(Photo of hoax disc)  Is It a Flying Disc? If men from Mars flew to earth in the 'flying disc' above, they must have been pretty small or possibly they were gremlins…"

Kalamazoo (MI) Gazette, p. 1, July 10, 1947

Recalls Moon Hoax

WASHINGTON – (UP) President Truman today compared the "flying saucers" controversy to the famous moon hoax of more than 100 years ago.  The moon hoax was printed in the New York Sun and told of the discovery of man-bats living on the moon and seen through a secret powerful telescope.  Mr. Truman said he knew nothing more about the saucers than he had seen in the newspapers.

Chicago Sun, p. 3, Thursday, July 10, 1947

What—No Tail Lights?

If any of the fabulous "flying disks" come over Chicago they had better keep out of the way of Alderman Clarence P. Wagner, who introduced a resolution yesterday before the City Council committee on railway terminals.  His resolution declared that "such thingamajigs" should be prohibited over the city unless they have tail lights and vehicle licenses.  He further recommended that license application forms be sent to "our neighbors on Venus and Mars." The committee declined to act on the recommendation.

Christian Science Monitor (Boston), p. 11, July 11, 1947

Flying Saucer-y

The Martian View…It's Too much to Swallow…Gullible's Travels Just Go Round

By John Allan May

AS IF FROM MARS

Do you believe in humans? This age-long, silly-season question, now being posed throughout the whole of Mars as the result of extraordinary stories which are being thoughted around, is causing most un-Martian excitement in all the main canals.  It results, of course, from the claim of Colonel Supermars, that trepid traveler, that his tour of the planet World in the latest flying saucers provided proof of the presence there of humans... (Mr. May, who never has been to Mars either, is a member of the London staff of the Christian Science Monitor)

Chicago Sun, July 11, 1947, Editorial page, Letters to Sun

Open Mind

Please chalk up one subscriber who at this time still fails to see the humor, as set forth today by Mr. F. R. Othman, your correspondent "On Sea Monsters and Flying Saucers."  I for one find it hard to believe that everyone who claims having seen these saucers was drunk.  That goes for the crew of the airliner, too.  On the other hand it is possible that our high brass, in denying any knowledge of these craft, is either "in the know" and not saying anything or are just plain liars.  I believe the Air Forces still have one radar set that has not be sold as surplus yet.  Why not use it?  Lastly, as an old science fiction fan, I am willing to keep my mind open for any development from space.  I'm willing to bet that if we do get "visitors" from outer space, they will not endanger their culture; they will use their superior knowledge by not having a thing to do with stupid earthlings. In any event I'm not laughing too loud yet.  Any who gives these disks the ha-ha before actually knowing what they are, is like walking through a dark cemetery and whistling a little too happily.  It just isn't done naturally.  Chicago   Edward S. Kaplan

Benton Harbor (MI) News-Palladium, p.1, Sat., July 12, 1947

Interplanet Message In A Saucer

Well, Scoffers, What Did Jones See Four Years

Ago Afire and Falling From The Sky?

Murry Jones… says he knows what these ghostly wraiths are that are streaking across the azure skies.  They are, says Jones, nothing less and nothing more than messages from another planet, speeded on their way from thousands of light-miles away by perhaps scientists on Mars and mayhap the moon—trying to get in touch with us. …Four years,…morning of August 18, 1944… gazing aloft, Jones saw a shiny, whirling object hurtling through the mid-summer sky.   …"It glistened like silver and looked like a shield with a long tail, from which fire and sparks and smoke were trailing…"  Jones is as sure now, as he was three years ago—only then he said nothing—that some planet is trying to get in touch with this weary old earth.    …He's pretty sure those fellows in some other world are doing their best to contact us and that these flying saucers… are just another effort to contact this terrestrial sphere.

Washington Post, p. M12, July 13, 1947

Record store advertisement

CELESTIAL SAUCERS SETTLE AT LANSBURGH'S

NOT WEATHER BALLOONS

NOT HEAVENLY  BODIES

NOT MISSILES FROM MARS

BUT

Flying Discs

Captured In Quantity—Enough for Everybody

Spots before your eyes?  Bothered by soaring circles?  Got yourself goggle-eyed staring into space?  You you can relax!  Stop scanning the skies, 'cause Lansburgh's… has solved the saga of the elusive flying saucers.  Yes—discs by the dozens are now flitting into our famous Record Department.  …we've captured a goodly quantity.  So get that crink out of your neck and look earthward to Lansburgh's, we've bagged the best collection by far!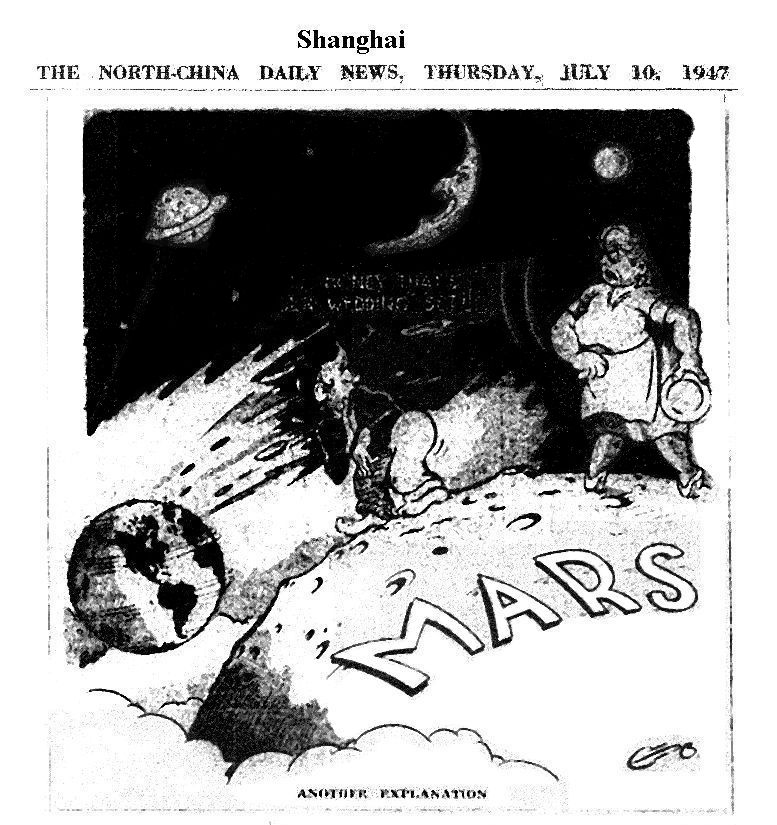 Shanghai North China Daily News, (cartoon), July 10, 1947

ANOTHER EXPLANATION—Shows wife on planet Mars throwing saucers at husband, the saucers flying into space toward Earth.

Pittsburgh Post-Gazette, p. 6 (Editorial page), July 11, 1947

Man-Made Horrors Have Replaced Dragons

By Joseph and Stewart Alsop

WASHINGTON, July 11—The great flying disc scare is a curious commentary on our times.  …instead of cozy, old-fashioned Loch Ness monsters, the minds of men are haunted by the man-made horrors of the age of the absolute weapons.  The trouble is that the man-made horrors are quite real… And so the scare of the flying discs raises a perfectly serious question.  If there is to be no peace, what warning shall we have that our enemies are preparing for war?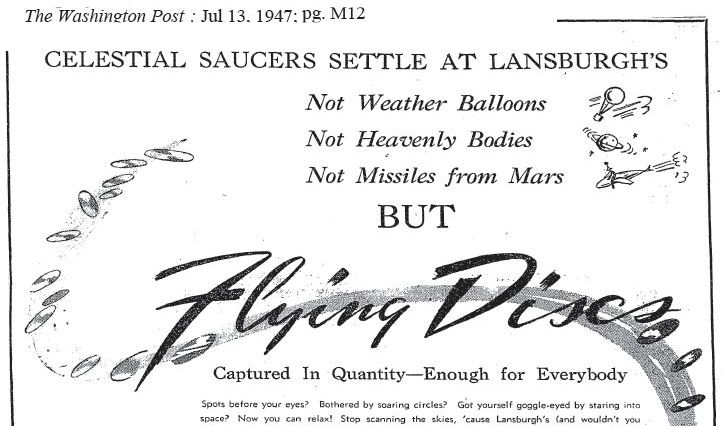 Louisville (KY) Times, July 14, 1947

'Flying Saucers' Long Stay Proves No Men From Mars Are Aboard

By GRACIE ALLEN

Well, those flying saucers that nearly everybody claims to be seeing certainly are mysterious.  Personally, I don't take much stock in the idea that they're men from Mars because they've been around for almost a month.  A man from Mars wouldn't be around that long.  One look at what goes on here and he'd head right back for his peaceful planet…

Los Angeles Times, p. A3, July 14, 1947

Play Penned About 'Disks'

SAN FRANCISCO, July 13, (U.P.)--Sterling Sherwin, playwright and composer, announced today he had copyrighted the first play written about the "flying saucers," turning it out complete with dialogue, a movie version and 10 songs by working 72 hours without sleep. Sherwin… reported the saucer play deals with the whimsical adventures of a young crooner kidnapped by the female crew of a flying disk.  He is whizzed off to another planet and the life he enjoys there forms most of the play's action. Sherwin said the play explains the animated saucers, but did not disclose what the explanation is.  Among the songs he has written for the play are "The Skies May Be Full of Flying Saucers (but You're My Favorite Dish.)"… "DisCocky Disk Jockey" and "Has Venus Come Between Us?"

Los Angeles Times, p. A4, Letters-to-Editor, July 14, 1947

A Century of Flying Saucers

Either the flying whatsits are real and have been coming to scare the daylights out of people of earth for at least 120 years, or a lot of people are unconsciously plagiarizing the works of an author who at this moment must be whirling clockwise in his Brooklyn grave.  Because the flying saucer stories aren't new.  A man named Charles Fort recorded similar circumstantial reports—scores and hundreds of them—a long time ago…  I think it ought to be pointed out that he was never accused, even by his sharpest critics, of inventing anything; he only reported exactly what the newspapers printed.  Altogether, he listed nearly 1000 examples of mysterious moving armadas in the sky over a period of just 100 years, ending in 1925…  ROBERT HARDY ANDREWS, West Los Angeles

When it comes to flying disks, saucers, yo-yos, washtubs or what have you, everybody seems to have an opinion.  I cannot truthfully say that mine is an opinion…  I do, however, have what I think is a new and interesting conjecture.  It is odd, with all the suns (stars) in our universe, that on some planet of some one of these stars there should not have developed a civilization capable of interstellar travel.  Our own civilization aspires to do just that.  If such a civilization had developed, why had they not paid us a visit before?  There are two answers.  (1) They haven't gotten around to us yet and (2) they have been here, looked us over and found our civilization too barbaric to associate with.  As for the disks themselves, they are not a new phenomenon.  Residents of Dunsmuir and other communities in the vicinity of Mt. Shasta and Mt. Rainier can tell tales of events and strange occurrences dating at least 20 years back.  RICHARD M. JOSLIN, Glendale

Tuscaloosa (AL) News, p. 2, July 14, 1947

Flying Saucer Radio Story Scares Public

The Stars and Strips, p. 6, Wednesday, July 16, 1947

Radio Fans Duped By 'Men of Mars' In Flying Saucers

RALEIGH, N.C., July 14—(UP)—Carl Goerch, local radio commentator… who excited a wide area with a wild "Orson Welles" broadcast of men from Mars in flying saucers, admitted today that he underestimated the gullibility of his radio audience.  Telephone calls from several states jammed radio station WPTF's switchboard after the broadcast last night.  The control tower at Raleigh-Durham Airport was unable to handle plane traffic because of calls after Goerch dramatically spun his yarn.  Goerch, also an amateur aviator, told of meeting a flying saucer in the air near Bensen, N.C., and finding it contained a crew of movie-struck men from Mars with bulging green eyes and yellow skins.  He told of talking with them by holding up signs in his cockpit while they did the same…

Winona (MN) Republican-Herald, (Editorial page) July 16, 1947

Life in These Excited States

Along about this time every summer, just when the real hot weather is beginning, every newspapermen learns to expect reports of queer goings on from almost any section of the nation.  This July, being no different than many in the past when the nation was at peace, brought the flying disk craze. …Upon investigation, nothing unnatural was uncovered.  Where objects actually were sighted and recovered they proved to be weather balloons, or paper saucers dropped to advertise some event.  Not so many years ago the realistic radio broadcast of "The Men From Mars" by Orson Welles startled the nation so that police departments throughout the country received calls from overwrought listeners who believed the men from Mars were attacking.  ..The real danger to the world today is not from flying saucers or any other kind of fanciful weapons but form the communistic ideologies which are sweeping Europe and Asia…

Newsweek Magazine, p 19-20

NATIONAL AFFAIRS

THE REPUBLIC:  Signs, Portents, and Flying Saucers

...The atmosphere from coast to coast seemed to be full of flying saucers.  Americans knew all about wars... but they had never heard of flying saucers before and wouldn't rest until they knew more about them.  Spots Before Their Eyes Perhaps the flying saucers were interplanetary space ships manned by two-headed Martians with radio antennas growing out of their head.  Perhaps they were the new secret weapon of an unnamed foreign power.  Maybe they were just the reflections of sunlight glancing off faraway planes, or a new American jet ship, or an advertising stunt...  In the absence of evidence, those who believed the saucers were visitors from another planet felt reassured.  Ole J. Sneide of San Francisco announced the disks were "oblate spheroid space ships from the older planets."  In San Diego, Mead Layne, publisher of an occult magazine, announced that he had received a message, through a medium, from one of the saucers.  The people aboard it, he said, wanted to live in the United States for a while.  "They come with good intent," said Layne.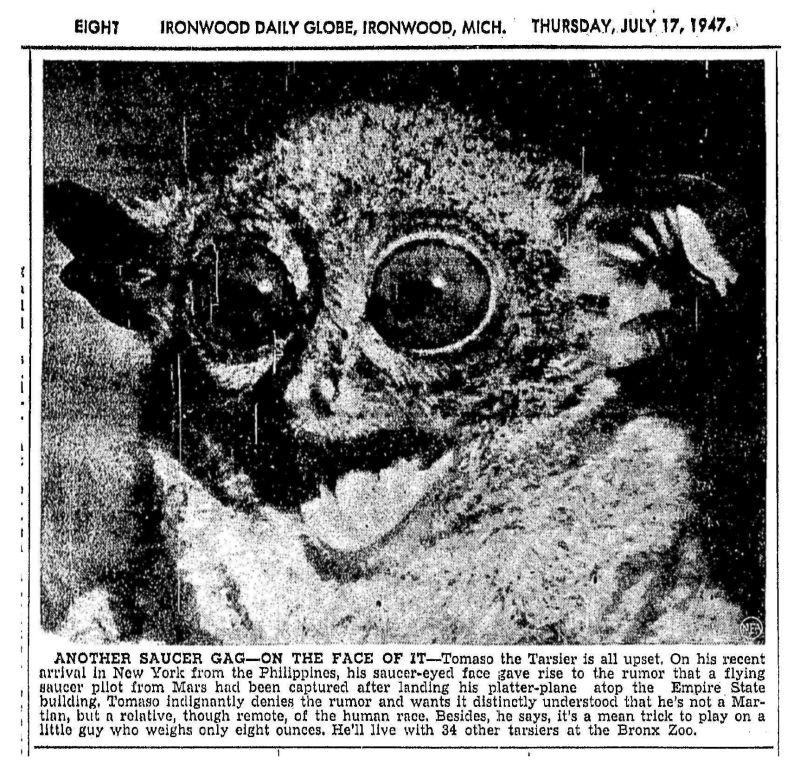 Ironwood (MI) Daily Globe, p. 8, July 17, 1947

NEA Photo of a tarsier with big eyes

"ANOTHER SAUCER GAG--ON THE FACE OF IT—Tomaso the Tarsier is all upset.  On his recent arrival in New York from the Philippines, his saucer-eyed face gave rise to the rumor that a flying saucer pilot from Mars had been captured after landing his platter-plane atop the Empire State building.  Tomaso indignantly denies the rumor and wants it distinctly understood that he's not a  Martian, but a relative, though remote, of the human race.  Besides, he says, it's a mean trick to play on a little guy who weighs only eight ounces.  He'll live with 24 other tarsiers at the Bronx Zoo."

Man Who Reported 'Flying Saucers' Feels That He Has Been Vindicated

PENDLETON, Ore., July 19. (AP) Kenneth Arnold, Boise, Idaho, businessman who flies about western landscapes peering for flying saucers, says people no longer think him a crackpot....  Hundreds of letters, telegrams and phone calls overwhelmed him. Friends kidded him and strangers harried him. It got so he hated to go out on the street. Now he walks with an assured tread and feels that he is vindicated.

"Everybody can't be seeing things," he says. "Even if only one percent of the reports are accurate, there is still something very unusual going on. I might doubt myself, but can't doubt such observers as Captain E.J. Smith, United Airlines pilot. And there's nothing wrong with my eyes, either."

...The ex-University of Minnesota swimmer and footballer says he now believes:

1. The disks are not from any foreign country.

2. The Army could give the answer if it would -- "if they don't have the explanation now they certainly could do something to find out."

3. If the Army has no explanation the disks must be -- "and I know this sounds crazy" -- from another planet.

Eugene (OR) Register-Guard, p. 3, July 20, 1947

Astronomer Recounts Stories Of Mysterious Objects in Sky

By J. HUGH PRUETT—Astronomer, Extension Division

At this writing the country is still wildly agog over those mysterious discs which instantly materialize in the azure heights—seemingly from nowhere—roll and skip along the "under heaven," then as suddenly again fade into the great unknown.  …Suggestions are prevalent that the flying saucers may be scouting ships from another planet.  Such visitations from space have long been the theme for stories of the Jules Verne type.  From weird boats which descend from the skies there emerge overgrown, goggle-eyed, misshapen creations like Halloween goblins.  Who can forget that Sunday evening in October, 1938, when Orson Welles' realistic radio version of H. G. Wells' "War of the Worlds" threw thousands all over the country into panic?   …The only certain material visitors from space are meteorites…  A few years ago Dr. C. P. Lipman of the University of California announced he had found living riders in these little space ships… This writer does not believe the reported discs are interplanetary space ships, satellites or supernatural portents.  Perhaps 90 per cent are distant clouds, or airplanes, wind-borne seeds, weather bureau balloons, meteors and bright stars near the horizon.  Some doubtless could explain the remaining ten per cent—if he would.

Middleboro (KY) Daily News, p. 2 (editorial page), Tuesday, July 22, 1947

The Flying Saucers Again

"Out of the unknown and unknowable…from the celestial outer spaces came floating to our desk, a piece of paper, saucer shaped and on it were written these lines:  Saucers floating in the air, Going places, here and there; At terrific paces going, Going, going, ever going.  Conjectures flying just as fast; Are they here our world to blast?  Can they be a Russian plot? Men from Mars?  Maybe not.  Men may worry, but not me…"

Chicago Tribune, p. 12, July 29, 1947

A LINE O' TYPE OR TWO

…It was the last leg of the afternoon run from Glacier Park to Calgary, over a maddening stretch of new-laid gravel… The driver said: "What do you make of the curious job of road machinery up ahead?" and the pilot, after scrutiny, answered, "It looks like a gigantic straddle bug that dropped off the planet Mars.  We may find Orson Welles in charge."  But we soon learned… that it was a small airplane, hogging the road from shoulder to shoulder…

Pittsburgh (PA) Press,  p. 16, July 29, 1947

Strauss' Music Captivates Crowd

By Ralph Lewando, Press Music Critic

Those explosions you may have heard last night were not a bombardment of flying saucers or an attack from Mars.  They were just a fireworks display that is part of "The Great Waltz" which opened the final week of the Greater Pittsburgh Civic Light Opera…

St. Petersburg (FL) Times, p. 16, August 8, 1947

Perseid Meteors Appear In Annual Celestial Show

--THESE 'DISKS' ARE REAL


By Alton L. Blakeslee, Associated Press Science Reporter

NEW YORK—(AP)—The Perseid meteors—an annual visit of "flying disks" from space—again are flashing through the night sky…

St. Petersburg (FL) Times, p. 6 (Editorial page), August 15, 1947

GALLUP POLL—9 Out of 10 Heard of Flying Saucers

PRINCETON, N.J.—Now that the uproar over the "flying saucers" has subsided it is a good time to take a look at what the general public thought about them…  Nine out of ten Americans have heard about the phenomena, which were first reported June 25.  As a test of the public's knowledge about current events, this looms very large indeed and places the saucers on a par with Orson Welles' "invasion from Mars," the Loch Ness monster and Tom Thumb golf.  As an indication of how the saucer story spread, it need only be pointed out that at the same time only about half the people had heard about the Marshall plan, and only 61 per cent had heard of read about the Taft-Hartley labor bill.  Among college graduations only two-per cent said they had not heard of the saucers, while 17 per cent of those with grammar school education or less were ignorant of the subject.

"What do you think these saucers are?"

No answer, don't know—33%; Imagination, optical illusion, mirage, etc.—29%; Hoax—10%; U.S. secret weapon, part of atomic bomb, etc.—15%; Weather forecasting device—3%; Russian secret weapon—1%; Searchlights on airplanes—3%; Other explanations—9%; Total—102% (Adds to more than 100 percent because some gave more than one answer).

Guesses ranged all the way from the practical to the miraculous.  Among the latter was a woman, citing biblical text, who said it was a sign of the world's end. A man in the west thought the disks were radio waves from the Bikini atomic bomb explosions, while another man saw them a new product being put out by the "Du Pont people."  A few people smelled a publicity or advertising stunt, while others felt sure that the saucers were after all only some kind of meteor or comet.  Further study of earlier "information" polls shows that the 90 per cent who know about the saucers compare to …the 51 per cent who couldn't tell what "balancing the federal budget" means…

Charleston (SC) News & Courier, p.4 (Editorial), August 18, 1947

Keep an Eye on the Sky

Any day now we expect to receive reports of a weird contraption flashing through the sky, not a "flying saucer" but something "out of this world".  What prompts the prediction is a news story from Denver reporting that police were puzzled by the strange trend of crime in that mountain metropolis.  Six sheets of plywood, a fertilizer grinder, a cement mixer and a little red wagon all disappeared the same day.  We fear that someone with an Orson Welles trend of thought was responsible.  Imagine what a combination could be made by someone with a mind that had all the stops out.  If you happen to be one of those staid individuals with a literal viewpoint who just don't believe such things can happen, remember that contemporaries called Jules Verne's stories fantastic.

Milwaukee Journal, p.124, August 24, 1947

A TRIP TO THE EARTH

(Cartoon satire of distorted Martian views of Earth life, showing "Mars to Earth Expedition" in flying saucer)

A great many scientists on earth worry continually about whether we'll ever be able to make a trip to Mars.  Meanwhile Cartoonist Charles Pearson, who is our expert on interplanetary matters, says he has the lowdown that scientists on Mars are actually outfitting an expedition to the Earth.  At right you see the Martian writer, H. G. Wellspop, hard at work on a prediction of what kind of life the expedition will find.  Wellspop insists that there is life on Earth—though some Martian scientists scoff at the idea.  …H. G. Wellspop warns the adventurers that they must expect to be ridiculed by Earthians.  "Remember," he says, "we'll look as absurd to them as they do to us..."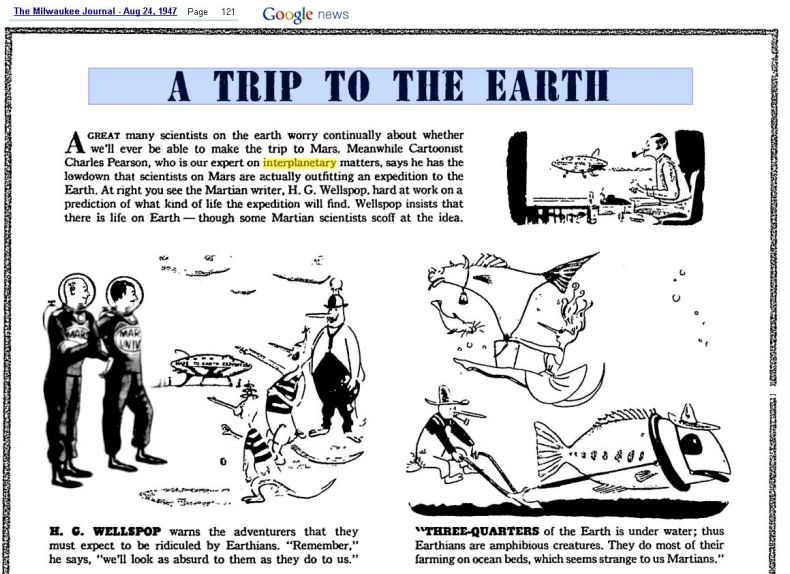 Helena (MT) Independent-Record, p. 2, Sunday, August 24, 1947

Independent-Record State News

You Never Saw, Sire, Such Sights Sirs, as Flying Saucers Now Seen Above Veracious Livingston

Livingston, Aug. 23—They're at it again!  Who?  The men from Mars, or whoever 'tis flying about these parts in aerial contraptions that resemble nothing in this world so much as saucers…

Clearfield (PA) Progress, p.1, Tuesday, October 21, 1947

It Wasn't Men From Mars Last Night

The Clearfield Co-Operative Association ran a close second to Orson Welles and his men from Mars in scaring the populace late last night.  Local residents startled from a peaceful sleep at about 11:30 p.m. by  flashes in the sky and explosions, suspected everything from gunnery practice by heavy artillery to a sneak attack by the Russians.  All were greatly relieved to learn it was a display of fireworks…

Long Beach (CA) Independent, Edwardsville (IL) Intelligencer,  December 15-20, 1947

Buck Rogers in the 25th Century comic strip

Buck Rogers, with own flying saucer and mechanical brain-controlled atomic ray-guns, blasts apart invading bandit fleet of rocket ships from Saturn and saves his Rocket Rangers fleet.  [Note:  This is apparently the comic strip Buck Rogers cartoonist Dick Calkin was referring to back in July when he
wrote a letter to a Chicago newspaper
, tongue-in-cheek apologizing for creating the flying saucer scare.]
Portland (ME) Press Herald, p. 43, December 28, 1947

(Story on jet pilots)  "The pilots appear… for all the world… like men from Mars.  In fact, a comparison with Buck Rogers' stories of Martian invasion is inescapable

Nevada State Journal (Reno), May/June 1948

Superman Sunday comic strip

Illustrating that the theme of Martian invasion remained a popular one, here reflected in a Superman Sunday comic strip story a year after the flying saucers.  (Originally, the date of this comic strip I incorrectly stated was May 1946, but a sharp-eyed reader caught my mistake.)  The Martians, needing Earth water, plan an invasion, but first decide to send a patrol in a spherical spaceship to kidnap Earthlings and see how resistant they are.  Superman and Lois Lane are kidnapped, Superman planning to pass himself off as a typical human resistant to their weapons and discourage the Martian plans.  There are also references to "ether guns" and "gamma ray weapons".   Another Superman Sunday comic from January 1946 references an "atom-powered space ship" and going "out of this world".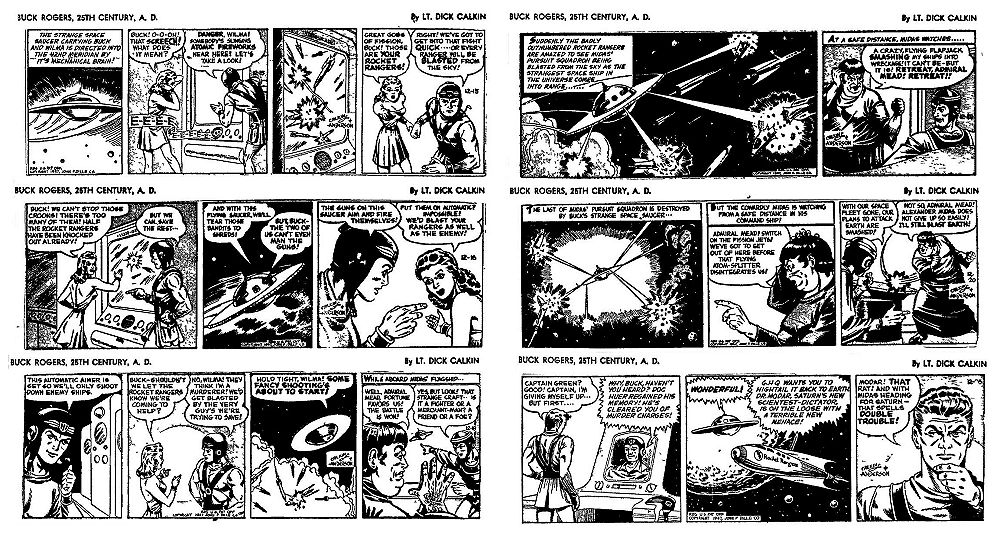 The Extraterrestrial Hypothesis (ETH) in 1947

(PART 2--Post July 9, 1947)

Newspaper stories document how the brand new flying saucer phenomenon was instantly associated with the possibility that they were extraterrestrial in origin, contrary to many standard UFO histories
Port Arthur (TX) News, July 10, 1947

News Will Award $25 for Best Letters On What Flying Saucers Are All About

"How do YOU explain the 'flying saucers?'  Are they real—or are the reports of them as phony as a counterfeit dime?  Are the Russians sending them over?  Are they missiles from Mars?  Is the moon chunking things at us on account of that radar-gram we sent her a year or so ago."